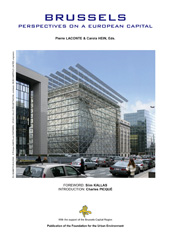 Pierre Laconte & Carola Hein, Eds, Publication in English (tables, abstracts and captions also in French and Dutch), éditions ALITER, 2007.
[ISBN-13 = 978-2-9600650-0-8 ]
The book Brussels: Perspectives on a European Capital edited by Pierre Laconte and Carola Hein (Brussels: Aliter 2007), has shared the Society of Human Ecology's 2008 Gerald L. Young Book Award in Human Ecology "for the best single book published in a calendar year".
To order the book, simply transfer 30 euros to our account, as follow. An invoice will be inclosed.
Foundation for the Urban Environment
BELFIUS Bank
IBAN : BE92 0910 1229 9023
SWIFT/BIC : GKCCBEBB
Communication to use : Brussels Perspectives
30 € (includes tax and delivery fees in Belgium)
Chapter 1, Pierre Laconte "History and perspectives on a capital city" - available for free consultation (reading only)