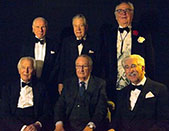 Le « Quartier des Arts » trouve son origine dans un article de Jean Tordeur, dans Le Soir du 21 avril 1966, intitulé « Plaidoyer pour une zone bruxelloise de musées et de sites architecturaux ». Cet article allait à contre-courant de l'ambition générale de « moderniser » la ville en éradiquant les vieux ensembles. Nous le citons : « Au moins, que ce qui reste soit non seulement sauvé à la petite semaine, mais mis sur le pavois ! C'est pourquoi la restauration, l'embellissement, la préservation draconienne de ce quartier, dans une ville qui taille à si grand coup dans elle-même, constituerait à la fois un exemple frappant de ce qui peut être fait, même aujourd'hui, pour sauver ce qui doit l'être et une mise en valeur éclatante d'un patrimoine qui appartient à chacun : celui de la beauté et de la culture. »
​La lecture de cet article a poussé Daniel Janssen à réunir six passionnés : Jean Tordeur, Michel Didisheim, Alain Camu, Mickey Boël et Pierre Laconte. L'asbl « Quartier des Arts » fut créée en vue d'arrêter certaines démolitions et d'assurer l'animation et la défense du quartier.
Depuis 2018, elle est présidée par la Professeure Françoise Tulkens.
Légende : Quartier des Arts membres fondateurs (de haut à gauche vers la droite : Pierre Laconte, Alain Camu, Mickey Boël, Michel Didisheim, SAR Albert II, Daniel Janssen)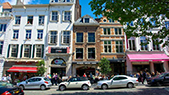 Légende : Place du Sablon. Son flanc nord-ouest était prévu, en 1967, pour démolition et remplacement par un immeuble de la RTT. Le projet a été arrêté de justesse sur intervention de l'asbl nouvellement créée.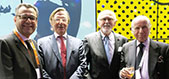 35 years of UITP General Secretaries
On 17th January 2018 Mohamed Mezghani became the new Secretary General of UITP. The ceremony took place at Heysel (Brussels) and was attended by his three predecessors. On the photos, see Mohamed Mezghani, Alain Flausch (2011-2017), Hans Rat (1999-2011) and Pierre Laconte (1984-1999).
UITP is recognised worldwide for achieving a global network of all public transport authorities and operators of sustainable forms of mobility. Founded by King Leopold II in 1885 to promote rail transport, it presently has 19.500 members in 96 countries. Its headquaters are in Brussels (ca. 100 staff) and it maintains 16 offices around the globe. It is THE worldwide think-thank in urban and regional sustainable mobility.