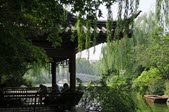 Icomos China - Tsinghua University Beijing, Urban Heritage Rehabilitation in Asia, 14-16 March 2018
The paper covers the perception experience by the author of the three following heritage rehabilitation cases:
The Wisdom Temple in Beijing.
This temple complex became successively an electronics factory, a vacant place  and an art gallery with restaurant. All traces of previous uses are clearly recognisable.
The Jingdezhen Porcelain Factory.
Part of the Jingdezhen Porcelain City of China, the factory became vacant. Its rehabilitation, as a Beijing Tsinghua Univ. project (Prof Zhang Jie) included the  creation of a porcelain museum, keeping parts of the original kilns.
The Jinan lake restoration.
Within the 1000 springs lake, the Eastern park has been restored as a Tsinghua Univ. Project (Prof. Zhang Jie) it includes new canals and streets adorned with works of art and urban furniture.
Legend of the icon: Jinan East Lake.